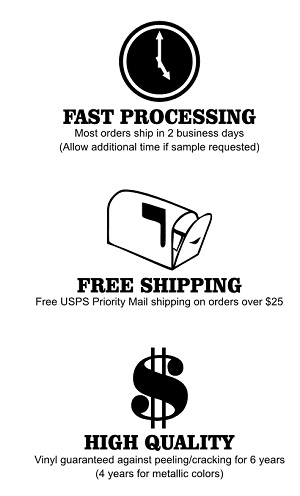 Welcome to Allstar Vinyl Signs!
We are a family owned, small business located in Southeastern Idaho. Our products include vinyl window decals, banners and signs, and other custom lettering options for your personal, business and school needs.
With over 15 years of design experience, we utilize the latest computer software and sign making equipment to create decals, banners, and signs that are high quality and affordable. If you don't find what you are looking for, please let us know. We are committed to meeting your design needs.
How vinyl lettering/decals are made
Our vinyl lettering and decals are cut on a computer driven commercial grade plotter/cutter.
After the computer/cutter cut the vinyl lettering, we weed out any excess material and apply a transfer tape. 
First time shopping with us? Have questions? Give us a call or text and we will help you with your order!
Company Information
Call or Text: (Two Zero Eight) 221-9283
Email: help@allstarvinylsigns.com
Office Hours
Monday-Friday, 10am to 4pm (Mountain Time)
OFFICE CLOSED – Saturdays, Sundays and all major US holidays.