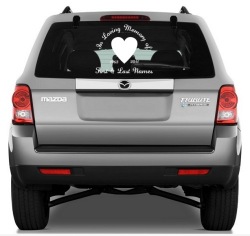 Celebrate and remember the life of your loved one with our "In Memory of" memorial vinyl car window decals.
Fully customizable to meet your needs!
Choose the size, font, vinyl color, and the option of adding an image.
Made from a high-gloss or matte adhesive vinyl, available in dozens of colors!
Not just for vehicle windows and doors, our memorial decals can be applied to other flat surfaces including mirrors, glass, boats, walls, lockers, and more.
Looking for something not shown?
Request a custom memorial decal design >>